Chevy Chase Flips on COMMUNITY Creator Dan Harmon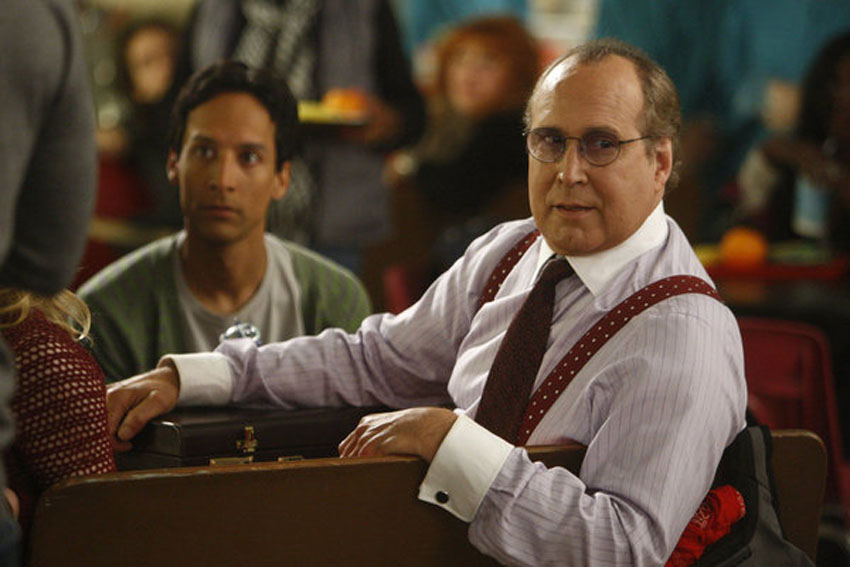 Chevy Chase didn't have a very good reputation in Hollywood. Anyone who was along side of him during his rise to fame in the 70s, 80s and 90s didn't have very kind words for him. In fact, nobody showed up to his Friar's Club Roast in the early 2000s, an event that left Chase pretty grounded (this is an excellent inside account from Entertainment Weekly that we highly recommend).
Now Chase is involved with Community, a show that went from being on the bubble to NBC's highest ratings draw this past Thursday. Of course, Chase found a way to burn this bridge too.
In December, the show was given little warning that they were being pulled from the lineup and put on ice until, as we reported as being the likely straw, one of the freshman shows on NBC kicked the bucket. That bucket was Prime Suspect. The network shifted things around and announced that Community was returning to Thursdays to finish off the season without interruption.
The show resumed production and made it to filming the season finale. That's when Chevy decided to burn his bridge. The events were accounted for on Reddit but the original poster seems to have redacted the comments, not before Nellie Andreeva of Deadline.com picked it up. Deadline reports Chevy walked off the set of the show, failing to film one of his scenes. Regardless, the show still made it to their wrap party where Harmon struck back and issued a "Fuck you, Chevy" speech to the attendees which included Chevy, his wife and daughter. Chevy left the party and responded with an irate voicemail which Harmon played to some folks and which has now made it online. A transcript and audio is below.
You can hear the full audio yourself here:
TRANSCRIBED FROM AUDIO

I hope you [inaudible/stuttering] medicine you fat fuck. You didn't give us a script to begin with so nobody knew what the fuck was going on [stuttering] during the week. Second of all, your God damn bad writing shit stinko fuck was an abomination and your writing is getting worse so suck my cock.

I don't get talked to like that by anybody certainly not in front of my wife and daughter you God damn asshole, alcoholic, fat shit. You're gonna live to be about 57, if you're lucky, the way you eat. I have nothing to say to you except you can suck my cock. Is that clear? And I hope you can play that for everybody around you who agrees with you that [inaudible/stuttering] you should say "fuck you" in front of all of those people, to me and my family.

You think that's the right way to behave?
As much as we can tell from the situation, Chevy Chase doesn't like the show's writing, threw a fit and walked off the set. Rather than coddle the actors from his show, Dan Harmon treats them like humans and struck back to which Chevy threw a larger fit.
Harmon has traditionally been outspoken (again, see his Twitter comments when the show was put on hiatus by NBC). We looked to get a comment about all this but haven't had a response yet. The closest he directly commented on the issue was a reply to a single tweet.
[blackbirdpie url="http://twitter.com/#!/slder78/status/186186452571398145″]
[blackbirdpie url="http://twitter.com/#!/danharmon/status/186189170438438912″]