"Spring Breakers" Looks Really, Really, Really Good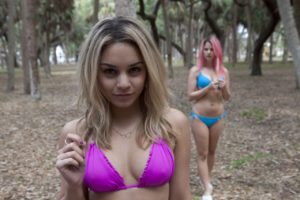 I have no idea what Spring Breakers is about. The film stars James Franco, Selena Gomez's breasts, Vanessa Hudgens' boobs, Rachel Korine's cans and Ashley Benson's boobies.
From the trailer and promotional images, all the stars (except Franco) are wearing two-piece bikinis and showing off their goods. I'm not sure what it's about but it's going to be a hit.
Collider has a slew of more photos showing off the female cast and James Franco with grills.