"Top That, Super Bowl": Broncos-Ravens Game Was Greatest NFL Game Ever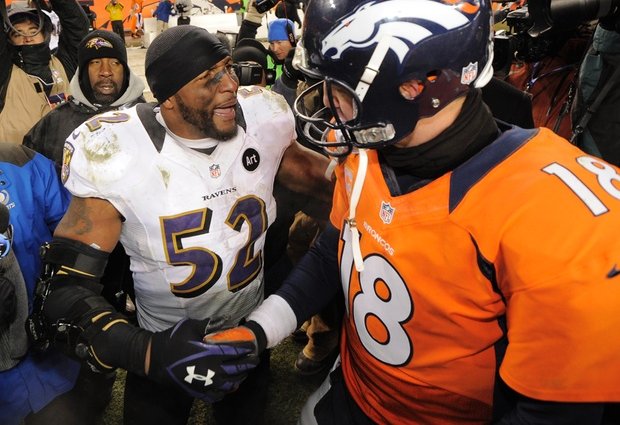 Saturday night's epic battle between the Baltimore Ravens and Denver Broncos for the chance to move onto the AFC Championship game was bigger than any game we'll see for the rest of the playoffs. Seriously, it broken a ton of records and ended in an upset after Denver blew an almost guaranteed win. According to USA Today, here are just a few things that happened Saturday that make the game something we'll be talking about for a while:
• It was the sixth double overtime game in NFL history.

• First 2OT game since 2004.

• Fourth-longest NFL game in history. IN HISTORY. Again, this wasn't mentioned.

• Longest NFL game since 1986.

• Peyton Manning losing brought his career playoff record to 9-11.

• With the exception of a 2009 AFC championship against the Jets, Peyton hasn't played a solid, complete playoff game since 2005. (The second half of the Patriots championship game in 2007 was exceptional, however.
The game stretched into NFC Divisional Game between the Green Bay Packers and the San Francisco 49ers. That game was a bore-fest after San Francisco won… easily.
Back to Saturday afternoon's game — the battle had great value too. On the line were both quarterback Peyton Manning's potential championship season, his first chance with the Broncos and since his return from an injury-defeated season. On the other end was Raven's Ray Lewis who announced last week this would be his last season. The finale came down to Peyton walking away from a great season and Lewis sticking around for another round with the potential to see the Super Bowl before he retires.
As we mention the Super Bowl though, here's the problem — no game ahead from here on the bracket will be as thrilling or exciting as this game. No other team has a thrilling story line to continue the emotion that this game held. So, let's just call Saturday's divisional game this year's Super Bowl and go watch hockey.