The Future Is Soon – The PS4 Is Official
By
Jon
on February 21, 2013
Last night Sony hosted a press conference at the Hammerstein Ballroom in New York City, where they at long last revealed the Playstation 4, well really they just revealed it existed the actual console was nowhere to be seen. The 2 hour long press conference bombarded the press and internet viewers watching a stream on various websites with a glimmer of what to expect when the PS4 hits the market this holiday season (no exact date was specified).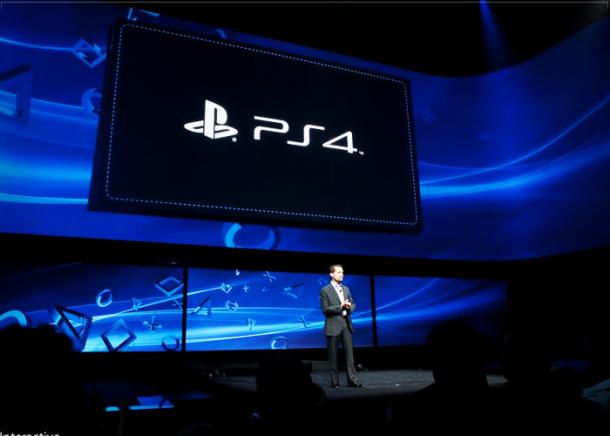 This time around Sony has upped the graphics potential to that of a modern high end computer. Confirming months of rumors, the PS4 will primarily have AMD silicon inside, in the form of a "single-chip custom processor" with eight AMD Jaguar CPU cores, and a next-gen Radeon graphics engine capable of 1.84 teraflops of performance.
Here's the full spec sheet:
Single-chip custom processor, with eight x86-64 AMD Jaguar CPU cores and 1.84 TFLOPS next-gen AMD Radeon based graphics engine
8GB GDDR5 memory
Built-in hard drive
6x Blu-Ray and 8x DVD drive
USB 3.0 and auxiliary ports
Gigabit Ethernet, 802.11 b/g/n Wi-Fi, and Bluetooth 2.1
HDMI, analog AV-out, and optical S/PDIF audio output
DualShock 4 controller, with two-point capacitive touchpad, three-axis gyroscope, three-axis accelerometer, vibration, light bar with three color LEDs, mono speaker, micro USB port, stereo headset port, extension port, 1000mAh battery
PlayStation 4 Eye camera, with two 1280 x 800 cameras, f/2.0 fixed focus lenses, 85-degree field of view, 30cm minimum focusing distance, four-channel microphone array
If you don't understand what most of that means allow me to simplify, THIS THING IS A TECHNICAL BEAST! On top of that Sony also said that the system will be capable of 4K resolution output for video, however there is no current support for 4K games (it wasn't specified if there would be eventually). Learning from the Xbox Kinect and their own PlayStation Eye, the new PS Eye has a stereo camera capable of tracking the player in 3D space, but instead of having to buy a special accessory like the previous wand controller, the new DualShock controller has the motion tracking light built into it.
And despite some scary rumors the PS4 will not block the use of used games, and will not require an "always on" internet connection. However in a bit of news that will disappoint some gamers the system will not be natively backwards compatible with any previous PS content. This means the system won't have built in emulation for PS1, PS2, PS3 or PSN purchased titles (why would you want to play these on the most advanced system ever anyway?), but they did claim that this content will be available as part of a new content streaming system, though I'm sure you will need to repurchase most of this older content you already own.
They spent most of the press conference last night discussing the integration of social media as part of the PS experience. The most interesting was the introduction of the share button, which will allow players to send video clips of their gameplay to various sources including Facebook and YouTube as well as invite players to spectate them which in turn allows those viewers to interact in a variety of ways including sending comments (which i'm sure will lead to a ton of trolling), and even possibly participating in the game by giving the player power-ups or even rebuilding parts of a level.
Also revealed were some the the first games we will see when the system hits which included the much anticipated Watch_Dogs, Killzone: Shadow Fall, Bungie's DESTINY, a new Final Fantasy and Diablo III.
And just as we all expected this announcement, we move our anticipation to the unveiling of the new Microsoft console which is expected to be revealed in the next few months prior to E3 in July.
If you want to see what you missed at last nights press conference you can check it out below
Watch_Dogs Demo
Killzone: Shadow Fall